Halloween Inspired Onesie Dress Tutorial
Every month a group of bloggers are challenged by
C'mon Get Crafty
to create a new craft or project from their own stash of goodies! You are allowed $10 max for necessities, but must primarily use items you already own. Check out some awesome creations you might be able to make from your own stash! This month I am sharing how to create your own Halloween Inspired Onesie Dress Tutorial!
#CraftRoomDestashChallenge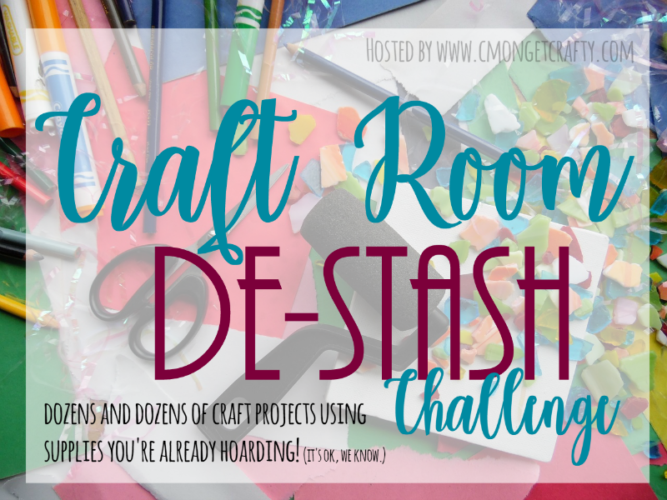 Halloween Inspired Onesie Dress Tutorial
Materials:
baby onesie
washable marking pen
¹⁄3 yard orange colored fabric
1 yard contrasting ricrac or ribbon
1 yard each yellow and orange ¼ ribbon
pumpkin button
matching thread
Directions:
1.On the onesie, measure 1 inch below arm seam on each side. Using a washable marking pen draw a line across the front and back connecting these lines. This will be your seam line. Also measure and mark the center of the front and back.
2. Measure the onesie from the seam line to the bottom. Add 2 inches to this number and this will be the length of the orange fabric. Cut this length across the width of the fabric (usually about 42 inches).
Fold under 1/2 inch on the top and bottom of the fabric. Then fold that under and iron. Sew seam close to where you ironed it under. With right sides together, zigzag a 1/2 inch seam, forming a tube. This will be the back seam. Along the top, sew 2 rows of gathering stitches (longest stitch possible on your machine). Place a pin at the center front and each side. Then pull up gathering stitches.
3. Match up your pins to the center front and each side and pin in place. Pull the gathering stitches so that the orange fabric is the same size as the onesie. Pin all the way around then sew in place. Use trim to cover seam, pin in place then sew over stitching.
4. Make your bow by looping your ribbon in figure 8's. Sew in center to hold together. Use second color ribbon to make a bow in the same manner, just smaller. Sew these onto the top of the onesie then sew the pumpkin button to the center.
I had everything needed to make this dress so I spent no additional money for this project!
(Visited 103 times, 1 visits today)